659 SW 1st Ave
Canby, OR 97013
ph: (503) 263-8557
fax: (503) 263-8369

| | | |
| --- | --- | --- |
| | Over 25 years in the local community.... | CCB # 0052426 |
Fisher's Pump can handle all your pump needs. We have an experienced crew of pump technicians ready to take care of you and your needs.

Specializing in submersible pumps, jet pumps, centrifugal pumps, turbine pumps, gas engine pumps, pressure switches, control panels, gauges, well seals, pressure tanks, submersible cable, installation, and repair.

Please come in or call for new pump system quotes. Our knowledgeable staff can discuss your options with you and assist in choosing the correct equipment for your application.

For repair or emergency pump service please call and talk to our service department. For after hours emergencies please call and follow the instructions on our automated answering system to talk to an after hours pump technician. After hours calls are for emergency pump issues only and will incur after hours service charges.

Constant pressure systems are changing the standard for private well systems all over the country. A private water well is one of the best sources of water for your home, but just as in municipal water systems, water pressure may sometimes be insufficient for the changing demands of the home. If you have a problem with water pressure in your home, you may have noticed that your washing machine fills more slowly when your dishwasher is running, or that your shower sputters when your sprinkler turns on. You don't like it, but you live with it.

Now you have a choice.

With a constant pressure system, you don't have to schedule your day around your water usage. Franklin's SubDrive and MonoDrive constant pressure controllers vastly improve your home water system. Using variable speed technology, SubDrive and MonoDrive continuously monitor water demand and adjust the speed of your pump to provide the water you need without pressure fluctuations. Available in a wide variety of ratings.

Franklin Electric's SubDrive constant pressure controller provides constant pressure by continually adjusting the speed of the pump to match water demand. Instead of draining and filling a large tank, a SubDrive system pumps more or less water as you need it. Finally, you'll be able to run the dishwasher, do laundry and water the lawn – all at the same time!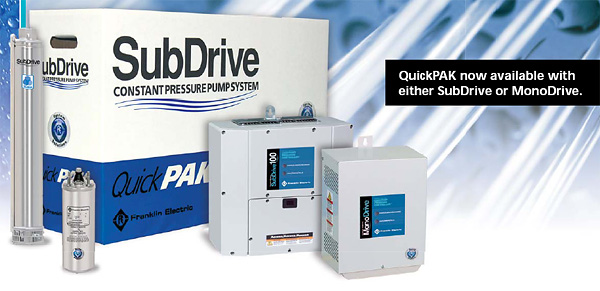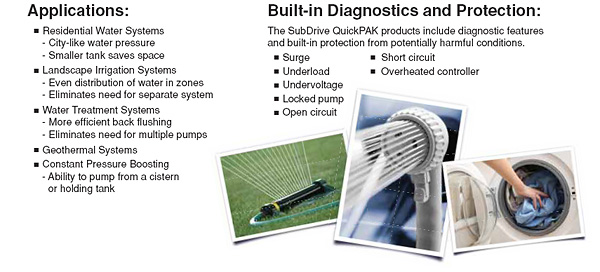 For more information about Franklin Electric Constant Pressure Systems you can visit their online demo: http://www.constantpressure.com/


FPS 4400 Tri-Seal

The Standard FPS 4400 4" submersible pump features the new TRI-SEAL floating stage system. This new stage system improves efficiency and protects against wear when pumping abrasives (sand). All FPS 4400 pumps are unconditionally guaranteed against sand locking in abrasive well conditions for one full year.

Features:

300 series stainless steel hub floats with the impeller maintaining a positive seal
Phenolic washer provides down-thrust protection
Celcon® * impeller provides high efficiency performance and abrasion resistance
Noryl® * diffuser and disc - proven abrasion resistant material
Floating stage design allows impeller to float independently
Removable, spring-loaded check valve
Maximum water temperature: 120 °F
Ceramic shaft sleeve and rubber discharge bearing protect shaft and eliminate sand wear
Powered by Franklin Electric corrosion resistant 4" submersible motor
VersaJet Pro

Built for easy customization, this pump covers a variety of performance needs. With our patent pending nozzle replacement system and a small Allen wrench (included), the internal nozzle can be replaced with any of the three nozzles supplied to provide standard performance, high pressure, or high flow.

Features:

Patent Pending "Quick-Change" jet nozzle replacement system
Noryl® impeller with stainless steel insert, diffuser, jet nozzle and venturi
Heavy-duty cast iron case
Ceramic mechanical shaft seal
Floating stainless steel eye seal
A.O. Smith dual voltage motor: 115 or 230 V
Pressure gauge port
Pressure switch installed
Built-in drain plug
Handles water temperatures up to 120 °F and shut-off pressures up to 90 psi
1" FNPT discharge, 1.25" FNPT suction
UL778 approved for indoor or outdoor use

*Note: Noryl® is a registered trademark of G.E
Well-Rite Well Tanks

Well Rite's patented manufacturing technique allows Flexcon to properly size the diaphragm in a full range of sizes from 14 to 119 gallons. Every tank undergoes a seam-weld test, high pressure test and is subjected to our famous helium test. Before leaving the factory, a final air charge check ensures each tank arrives at the job site with the correct precharge. Flexcon stands behind every Well-Rite tank with a five-year warranty. Just what you would expect from Flexcon: quality and performance, guaranteed!

Materials of Construction:

Tank: 16-gauge cold rolled steel
Finish: Appliance-quality paint for indoor or outdoor installation
Water chambers: Top chamber is 100% butyl rubber, lower water chamber is copolymer polypropylene
Connection: Stainless steel
Testing: High pressure, seam weld, helium, final precharge check
Air valve: Brass valve with O-ring seal

Warranty: Five years
DIY Submersible Pump
"Do It Yourself" pumps

Our DIY pumps have an exceptional history of durability and trouble-free operation. Stainless steel design and self-lubricating impellers offer the best service for extreme conditions. Some of the features generally found in our DIY pump are:

Shell – 304 Stainless Steel

Discharge – High-density composite
resin

Discharge Bearing – Nylatron®

Impellers – Self-lubricating Noryl®

Diffusers – Noryl

Suction Caps – Noryl

Shaft and Coupling – 304 Stainless
Steel

Intake – High-density composite resin

Intake Screen – High-density
composite resin

Cable Guard – PVC

Check Valve – Polyester Teflon®

Fasteners – 304 Stainless Steel

We do not offer installation on our DIY series of pumps. We sell our DIY pump as an over the counter do it your self option. The DIY line of pumps have proven to be good quality and a dependable long lasting option for those who wish to minimize the cost of replacing a pump by doing the labor themselves.